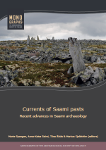 Currents of Saami pasts: Recent advances in Saami archaeology
Cover & Introduction
Marte Spangen, Anna-Kaisa Salmi, Tiina Äikäs & Markus Fjellström
---
Funnel-shaped reindeer trapping systems in Hedmark - Saami or Norse?
Hilde Amundsen & Kristin Os
---
Hunting native reindeer, while herding imported ones? Some thoughts on the development of Saami pastoralism
Jostein Bergstøl
---
Working with reindeer: Methods for the identification of draft reindeer in the archaeological record
Anna-Kaisa Salmi, Sirpa Niinimäki & Hanna-Leena Puolakka
---
Animal remains from Saami offering places: Glimpses of human-animal relations from Finnish Lapland AD 1000–1900
Milton Nuñez, Tiina Äikäs, Jouni Aspi, Gunilla Eriksson, Matti Heino, Kerstin Lidén, Markku Oinonen, Jari Okkonen & Anna-Kaisa Salmi
---
The offering site in Mørsvikbotn, Sørfold municipality, Nordland county, Norway
Oddmund Andersen
---
The function of the Stállo foundations in the Scandinavian mountain ridge reconsidered
Kjell-Åke Aronsson
---
Were there really "East Saami winter camps" in Northern Scandinavia?
Thomas Wallerström
---
Forest Saami heritage and history
Gunilla Larsson
---
Common ground. Saami-Norse interactions in South Norway during the late Iron Age and early Medieval Period
Hege Skalleberg Gjerde
---
Mines and missions: Early modern Swedish colonialism in Sápmi and its legacies today
Carl-Gösta Ojala
---
The enhanced role of archaeological and historical research in court proceedings about Saami land rights
Malin Brännström
---
Download the whole book
---
---