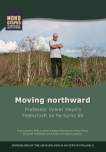 Moving Northward: Professor Volker Heyd's Festschrift as he turns 60
Table of Contents, Preface and Tabula Gratulatoria
Antti Lahelma, Mika Lavento, Kristiina Mannermaa, Marja Ahola, Elisabeth Holmqvist & Kerkko Nordqvist
---
I The Yamnaya impact on prehistoric Europe
---
1 - Interdisciplinary investigation of the possible burial mounds of the Yamnaya culture on the Hron Plain in southwest Slovakia
Jozef Bátora, Šárka Horáčková, Igor Murín & Matej Ruttkay
---
2 - The 'Headless shepherd': prehistoric burials of the Kiszombor 'E' kurgan from southeast Hungary
János Dani, Antónia Marcsik, Péter Langó & Attila Türk
---
3 - The old man and the three babi: an exceptional burial from the 'Pamukli bair' barrow near Malomirovo, southeast Bulgaria
Piotr Włodarczak, Rositsa Manova, Michał Podsiadło, Martin Trautmann & Stefan Alexandrov
---
4 - Modelling Yamna distribution in the west area: towards an economic reasoning
Svitlana Ivanova & Dmytro Kiosak
---
5 - Yamnaya and their western neighbours: opposing cultures of conflict?
Martin Trautmann, Benjamin Rampp & Tomi Kuljukka
---
II The Corded Ware legacy
---
6 - Corded Ware graves from Obříství, Czech Republic
Miroslav Dobeš, Monika Pecinovská, Luka Papac & Michal Ernée
---
7 - Relative and absolute chronology of burial of Corded Ware culture in MoraviaWere there really "East Saami winter camps" in Northern Scandinavia?
Jaroslav Peška
---
8 - Suspended whetstones from Narva-Jõesuu IIB Corded Ware site (Estonia)
Kerkko Nordqvist & Aivar Kriiska
---
9 - Visualizing the Corded Ware past: art, archaeology, and heritage-making at Myyrmäki, southern Finland
Marja Ahola
---
III Moving and migrating in prehistoric Europe and beyond
---
10 - Entwined relationships: genetic and cultural diversity in the Caucasus and the adjacent steppes in the Eneolithic–Bronze Age period
Viktor A. Trifonov, Egor B. Prokhorchuk & Kristina V. Zhur
---
11 - Searching for the long-lost 'Indios' in Cuba's cultural-genetic amalgam
Milton Núñez & Verónica Walker Vadillo
---
12 - Examples of Iron Age mobility patterns in the light of multi-isotopic evidence
Betka Danielisová
---
13 - 'Aegean' and 'Anatolian' first farmers: ambiguous labelling or research blind spot?
Maxime Brami
---
IV Contextualizing archaeological narratives
---
14 - Narratives for the European Neolithic
Alasdair Whittle
---
15 - Contrasting 3rd and 2nd millennium BC mobility in temperate Europe: migration versus trade
Kristian Kristiansen
---
16 - Revisiting the 'poisoned lands of Sudbury': Sakari Pälsi and Finnish immigrant miners in Canada in 1927
Oula Seitsonen & Vesa-Pekka Herva
---
V Crossing disciplinary boundaries
---
17 - A life history of a female hunter from Yuzhniy Oleniy Ostrov (Karelia, Russia)
Kristiina Mannermaa, Laura Arppe, Olga Batanina, Karen Hardy, Rebekka Eckelmann, Tuija Kirkinen, Aija Macāne, Johanna Roiha & Julien Treuillot
---
18 - The Eneolithic Khvalynsk I cemetery: new radiocarbon dates and verification of its general chronology
Natalia I. Shishlina
---
19 - Early Metal Age in the Middle Volga and the diversification of Uralic languages
Riho Grünthal & Sampsa Holopainen
---
20 - Families on the move? The case of Proto-Finnic speakers
Ulla Moilanen, Elina Salmela & Terhi Honkola
---
21 - Artificial cranial modification northwest of the Black Sea in the Bronze Age: a case study from Ciulnița, Romania
Angela Simalcsik, Bianca Preda-Bălănică & Elena Rența
---
VI Fieldwork and geoarchaeology
---
22 - Three soldiers in a dugout: the modern conflict archaeology of a burnt down Second World War underground structure on the Hanko Front
Jan Fast & Teemu Väisänen
---
23 - One tell to rule them all: surveying the multiperiod site of Zambut Meleik, northern Jordan
Antti Lahelma, Marta Lorenzon, Elisabeth Holmqvist, Maija Holappa & Saimi Kautonen
---
24 - The use of geo-archaeological survey methods in Greece by the Finnish Thesprotia Expedition
Mika Lavento
---
25 - Drama – Merdzhumekia: the German archaeological field-school in Bulgaria
Todor Valchev & Iliya Iliev
---
VII Landscape and spatial analyses
---
26 - Exception proves the rule: divergent patterns in settlement locations in Central and Southern OstrobothniaThe enhanced role of archaeological and historical research in court proceedings about Saami land rights
Lauri Skantsi, Petro Pesonen, Miikka Tallavaara & Markku Oinonen
---
27 - Methodological perspectives for applying spatial point pattern analyses to Finnish Iron Age remote sensing data
Eljas Oksanen & Johanna Roiha
---
28 - Landscape analysis of the Early Bronze Age mounds in the Middle and Lower Tundzha River
Todor Valchev & Adela Sobotkova
---
---
List of contributors
---
---